by Lois Heckman, Celebrant
Because your wedding day is one of the most personal and cherished days of your life, your officiant should express it with a ceremony just as personal. Every aspect of it, from readings to music to symbolism, should be a reflection of you and the bond that you share, making this day truly your own, rejoicing in everything that makes your union unique. You can express yourself among family and friends through a personalized ceremony.
If you've already chosen a lovely location in Pennsylvania, you have the beauty of our location on your side. Now, here are some ideas to make your ceremony unique:
Tell your personal story. Share the story of how you met and why you fell in love. What were the first words you said to each other? Where was your first date? How did the proposal happen? What actions of the other say I love you? What does your partner do that always makes you laugh? Your celebrant can include these words in the introduction or elsewhere in the ceremony.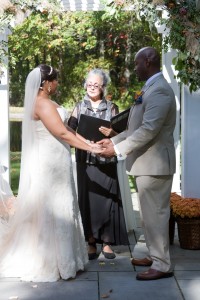 Honor the Presenter. If one or both of you will be presented in marriage, take this time to reflect on what this relationship means to you. Have your Celebrant include words of homage, amusing stories, and thanks.
Celebrate Your Heritage. Make a list of your respective ethnic, cultural or religious backgrounds. Research wedding rituals, poets and music from these traditions and create a distinctive blend of words and symbols. Honor both your backgrounds and the ceremony will reflect your unique partnership.
Something New. Borrow freely from the rich wedding customs around the world. You don't need to belong to a particular culture or religion for its rituals to have meaning. Such rituals have been performed for hundreds or thousands of years because they resonate with universal truths about marriage.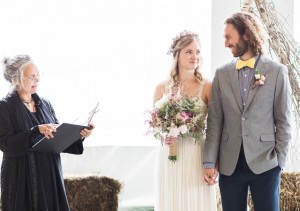 Interfaith Weddings. Over 25% of marriages are between partners of different faiths. A good officiant will help you honor each faith tradition in a way that pleases everyone.
Involving Children & Stepchildren. When children are involved, your wedding reflects not only the joining of husband and wife, but the creation of a new family or stepfamily. There are many ways to reflect family unity in your ceremony.
I hope these tips have inspired you towards a creative approach to your wedding ceremony. It is a true joy and pleasure to officiate as a certified celebrant at weddings and other occasions here in the Pocono Mountains.
– Lois Heckman (www.LoisHeckman.com) is a certified celebrant (www.celebrantusa.org) in the Pocono Mountains of Pennsylvania.